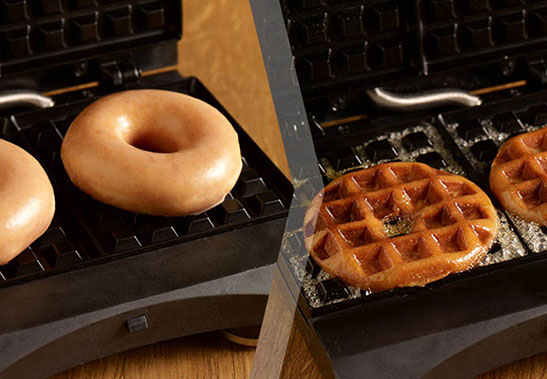 Original Glazed Waffles by Krispy Kreme
Serves 2 – 4 People
Prep time: 25 minutes
Cook time: Approx 20 minutes in total
Ingredients
4 Krispy Kreme Original Glazed doughnuts
400g mixed berries
125ml whipping cream, lightly whipped
Recipe
Have ready a preheated waffle maker.
Place two Original Glazed Doughnuts at a time in the waffle maker and cook for about 2-3 minutes or until the doughnuts are beginning to brown and crisp a little. Remove from the waffle maker. Arrange the doughnuts on top of each other and keep warm.
Repeat step 2 if making 4 waffles.
Serve each waffle accompanied by the mixed berries and some whipping cream (optional).
Krispy Kreme Cooks Note
This recipe can be made using Raspberry Glazed Krispy Kreme doughnuts, but please be aware that the jam can become scorching hot.
If liked, serve the waffle stack drizzled with maple syrup (optional).