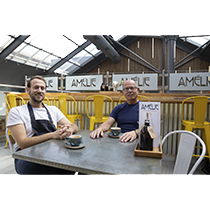 Amélie Restaurant: Regis & Alex Crepy
Owner Regis Crepy and his son Alex bring a wealth of expertise to this new exciting fast-casual dining venture.
Regis has been one of East Anglia's renowned chefs and restaurateurs for over 35 years; owning three successful Suffolk restaurants including the celebrated Great House in Lavenham which is known for its superb cuisine and where he was awarded 3 Michelin red forks, 3 AA Rosettes and is one of the 50 longest standing destinations in the Good Food Guide. His knowledge and understanding of good simple food and delicious flavour combinations is exceptional.
Alex has followed in his father's footsteps graduating in hospitality management from the top hospitality university in the world. He spent three years working at the Gaucho Restaurant group in London becoming one of its youngest managing partners.