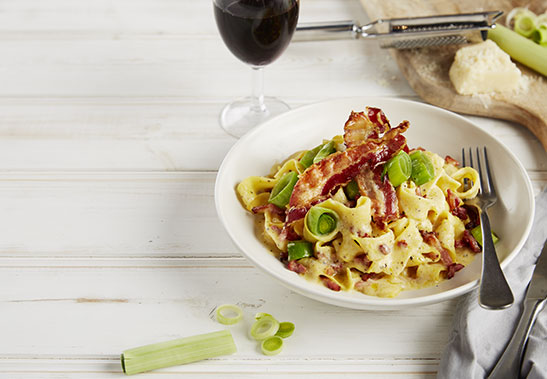 Bring a taste of Italy to your home from Bella Italia with this simple and delicious Carbonara recipe.
(Recipe serves 2)
Ingredients
3 large free-range egg yolks
50g pecorino cheese (or use parmesan), plus extra to serve
150g diced pancetta
4 slices of crispy pancetta to garnish
Half a leek – washed and sliced
200g tagliatelle
100ml whipping cream
3 dessert spoons of olive oil
Salt and black pepper
Recipe
Pre-heat the oven to 200ºc/fan 180ºc/gas mark 6.
Put the egg yolks into a mixing bowl with grated Pecorino cheese (or Parmesan) and whipping cream, then mix well with a fork and put to one side.
Cook the tagliatelle for 3 mins in a large pan of boiling salted water until al dente.
Season the leeks well with salt, pepper and 2 dessert spoons of olive oil.
Transfer the seasoned leeks onto an oven tray and cover – cook in the oven for 10 mins (or until soft).
Place the slices of pancetta onto an oven tray – cook in the oven for 5 mins (or until crispy).
Meanwhile, heat one dessert spoon of oil in a pan, add the diced pancetta, stir occasionally and cook until crispy.
Pour the egg and cream mixture into the pan and remove from the heat.
Drain the tagliatelle, add to the pan and bring back to the heat, season with salt and pepper, and coat the tagliatelle well in the sauce.
Transfer the tagliatelle into two pasta bowls.
Top the pasta with the leeks and two strips of crispy pancetta.
Serve immediately with a grating of Pecorino (or Parmesan) and black pepper if desired.