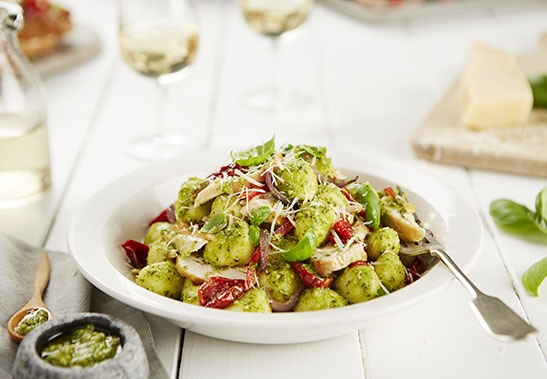 This delicious Gnocchi dish is brand new to the Bella Italia menu and features on their new menu. The restaurant are proud to serve amazing, fresh, pesto made by the Contino family in Liguria in this dish – why not pop in to the restaurant and try it for yourself, then use this recipe to re-create it at home.
Ingredients
(Recipe serves 2-3)
500g gnocchi
200g diced chicken breast
3 tablespoons of basil pesto
1 red onion
1 red pepper
Handful of sun-dried tomatoes
Handful of fresh basil leaves
Parmigiano Reggiano cheese to serve
Salt and pepper to season
How to
Pre-heat the oven to 180°C
Roughly chop one red onion and one red pepper and place in a baking tray, drizzle with olive oil, lightly season with salt and pepper. Roast in the oven for 20 – 25 minutes or until soft.
Bring a pan of water to the boil and salt if desired.
Cook gnocchi in boiling water for 2 minutes – you can tell they're ready when they float on the surface!
Drizzle a pan with olive oil and cook the chicken. Season with salt and pepper, lightly fry for 6-8 minutes until they are golden brown, the juices run clear and they are cooked all of the way through.
Add the roasted onions and peppers to the pan along with the sun-dried tomatoes (as many or as little as you like!) and heat.
Once hot,remove from the heat and stir in the pesto. We use amazing pesto made in Liguria by the Contino family – pop in to Bella to try it out!
Add the gnocchi and stir.
Transfer in to a bowl and top with grated Parmigiano cheese and a sprig of fresh basil.
Serve and enjoy!