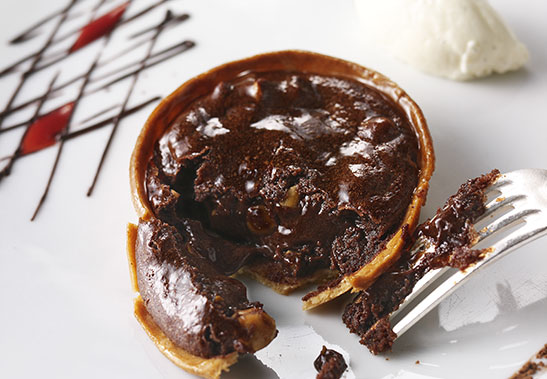 Amélie – Dark Chocolate Tartlets
Serves: 10
135g caster sugar
115g butter, softened
35g flour
Zest of 1/2 orange, grated
135g good-quality dark chocolate, melted
3 tbsp Grand Marnier
3 small eggs
100g roasted hazelnuts, roughly crushed
Pastry:
125g plain flour
3g salt
60g butter, diced
1 small egg beaten
1 tbsp water
Make the pastry: sift the flour into a bowl and add the salt. Rub in the butter with your fingertips to obtain small flakes or until the mixture resembles breadcrumbs. Make a well in the centre and add the egg and water. Mix well with your fingers until the dough forms a ball and leaves your hands clean. Wrap it in cling film and leave to rest in the refrigerator for 30 minutes.
Meawhile, in the bowl of a food mixer, beat the sugar and butter until white and creamy. Add the flour, a little at a time, and then mix in the orange zest, melted chocolate and Grand Marnier.
In a separate bowl, beat the eggs up to the stage at which, when you lift the whisk, there is a continuous 'ribbon' and add them, in 2 or 3 batches, to the chocolate mixture and fold them in. Finally, add the crushed hazelnuts.
Roll out the dough on a lightly floured surface to 3mm thickness, and use to line 10 small 8cm tart tin. Cover it with waxed paper or baking parchment and fill with pie weights or baking beans right up to the top.
Bake 'blind' in a preheated oven at 150°C, gas mark 2 for about 15 minutes. Remove from the oven and allow to cool. Carefully remove the pie weights and waxed paper and then pop the tartlets back in the oven for 5–6 minutes to finish cooking evenly and colour. Let it cool down before using. Turn up the oven to 180°C, gas mark 4.
Fill the precooked tartlets with the chocolate mixture and cook for 5 minutes in the oven. Remove each tartlet from the tin and serve on a plate with a little whipped cream.