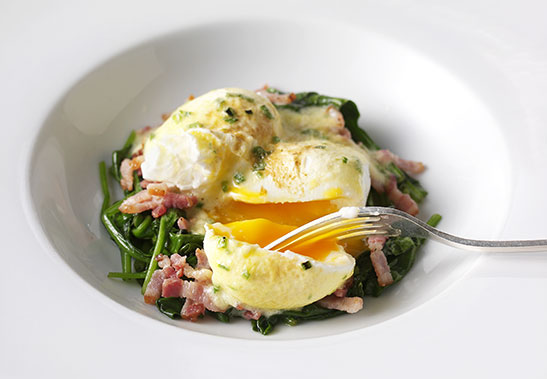 Amélie – Poached egg and bacon with hollandaise sauce
Serves: 4
250g baby spinach leaves, washed
2 tsp olive oil
200g smoked streaky bacon, cut into thin strips
Dash of distilled white vinegar
8 whole eggs
Chive hollandaise sauce:
300g butter
4 egg yolks
4 tbsp water
Juice of ½ lemon
Small bunch of fresh chives, finely chopped
Pinch of salt
Pinch of cayenne pepper
Pan-fry the spinach leaves quickly with a little of the olive oil in a saucepan. Leave to cool. Add the bacon strips and remaining olive oil to the pan and fry until crisp and golden brown. Keep warm.
Make the chive hollandaise sauce: melt the butter slowly over a low heat and keep it warm (it will be used as clarified butter).
Put the egg yolks and water in another saucepan and whisk them quickly over a very low heat until warm, foamy and thickened – take care not to overheat the egg yolks or they will split. When you reach the stage at which, when you lift the whisk, there is a 'continuous ribbon', start adding the clarified butter, slowly and gradually, but do not stop whisking. When all the clarified butter has been added to the mixture, add the lemon juice, chives, salt and cayenne. Check the seasoning and leave the sauce in a Bain Marie to keep it warm.
Simmer some water in a large saucepan with a dash of white vinegar. Carefully break each egg and immerse it slowly in the boiling water. Boil for 2 minutes 40 seconds, then remove and drain well.
Meanwhile, warm the spinach and the bacon, and arrange a bed of spinach on each of 4 slightly curved serving plates. Add the bacon strips and place 2 eggs on top of the spinach. Cover them with a little chive hollandaise sauce before glazing quickly with a blow torch. Serve immediately.