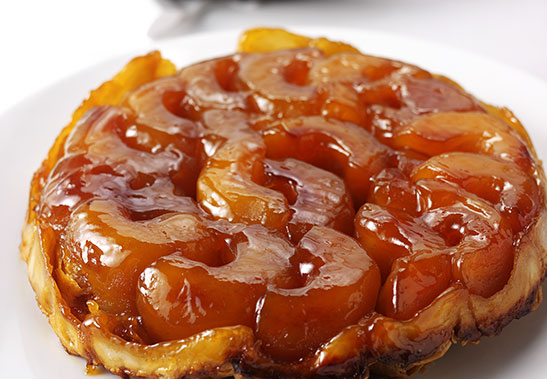 Serves: 6
50g salted butter
225g caster sugar
12 Braeburn apples, peeled, cored and halved
250g puff pastry
Butterscotch sauce:
300g brown sugar
400ml single cream
2 tsp vanilla essence
30g butter
1tsp Maldon sea salt (optional)
Caramel sauce:
200g granulated sugar
200ml single cream
125ml water
1tsp Maldon sea salt (optional)
Recipe
Melt the butter in a deep 24cm frying pan, which can be put in the oven. Add the sugar and stir to dissolve and cook over a medium heat until it turns golden brown and you have a nice brown caramel. Remove from the heat immediately and arrange the apples in concentric circles in the pan, standing up on their sides, until the pan is full. Any remaining apples can be cut into smaller pieces and used to fill any holes, so the apples are really tightly packed together. Cook on the hob over a gentle heat for about 5 minutes until the apples start to caramelize as well underneath.
Preheat the oven to180°C, gas mark 4. Roll out the pastry 2mm thick and cut out a 30cm diameter circle. Use it to cover the apples, tucking in the excess pastry all around the pan. Place the pan on an oven tray and cook in the preheated oven for 30 minutes, or until the pastry is golden brown.
Remove from the oven and set aside to cool down for a few minutes. Take a plate the same size as the pan or a little larger and place it over the top of the pan. Using an oven cloth, hold the pan and plate together and then quickly turn them upside down. Gently lift off the pan to reveal the intact tarte tatin on the plate.
While the tart is cooking, make the sauce of your choice. For the butterscotch sauce: put all the ingredients in a large pan and bring to the boil and stir to melt the sugar. Remove from the heat and allow to cool down before using. You can reheat the sauce when it is needed.
For the caramel sauce: heat the sugar and water in a saucepan over a medium heat, and cook, without stirring, until it turns a golden amber colour – don't let the sugar become too dark or it will taste bitter. Remove the pan from the heat. Meanwhile, bring the cream to the boil and whisk into the hot caramel – be very careful as the caramel will bubble up violently. If it seizes up, put the pan back over a medium heat and stir until the sugar melts once again and the caramel becomes smooth. Add the salt if wished.
Cut the tarte tatin into 6 portions and serve hot with a little caramel or butterscotch sauce and a generous scoop of vanilla ice cream.